After the Flood
What to do When Dealing with Flood Damages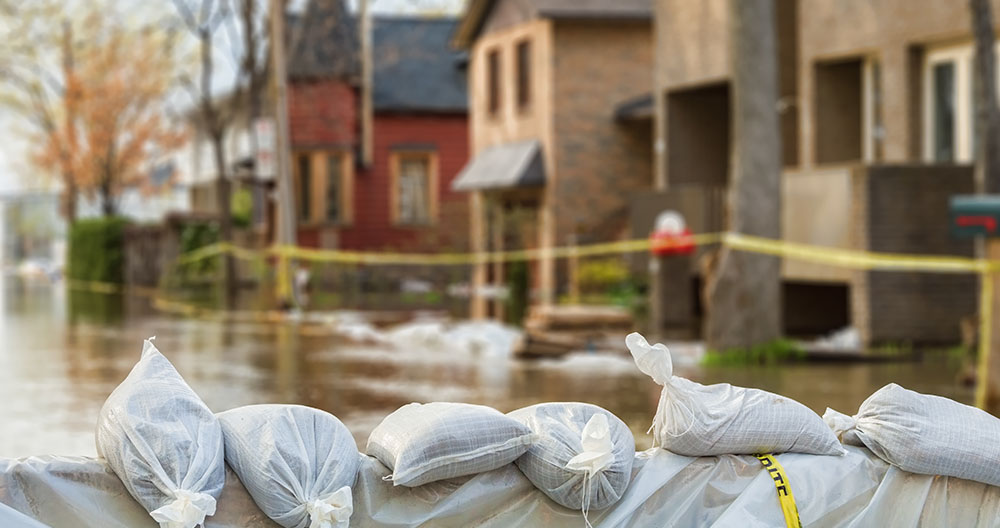 As Ottawa grapples with the long-term impacts of climate change and extreme weather events, property owners living on or near a floodplain will need advice on what to do and where to turn to for support. This blog does not provide all-of-the-answers – but it is designed to give readers guidance if you own land on or near a flood prone area.
Before you purchase land
Before you purchase land, particularly where it abuts a watercourse, such as a lake, stream, river, valley or wetland, you should consider asking your local conservation authority if your property is within a regulated floodplain. This search is not commonly conducted by real estate lawyers who are focused on the registered title of your property. That said, it might be a relevant consideration for a purchaser, particularly during any conditional due diligence period associated with their transaction.
Floodplains are simply areas of land near a watercourse which may be flooded by water from extreme weather events (such as high rainfall or rapid snowmelt) or susceptible to slope/soil erosion. Local conservation authorities maintain flood plain maps which establish minimum setbacks and protection areas around floodplains. Floodplains are determined based on scientific studies and illustrated on maps. As floodplain maps have only been in production for the past fifty years and are subject to change over time, it is possible that your home may lie within a floodplain.
What to do if you already own a home within a floodplain
If you already own a home within a floodplain, you need to consider what the level of risk is of a flood occurring during your term of ownership. For example, a home located within a "1 in 100-year" floodplain rating, means that major floods have a 1% chance of occurring in that area, in any given year. In contrast, a "1 in 50-year" floodplain rating would mean that there is a 2% chance of a major flood causing serious property damage in any given year. Many large swaths of the Ottawa region are within a 1 in 100-year floodplain rating. Certain parts of Ottawa near watercourses are within higher flood prone rated areas.
If you are concerned that your property may be in a particularly flood prone area, you need to consider the merits of raising the height of the building on the lot, taking preventative measures to seal your basement, investing in a sump pump/gas generator, stocking up on sandbags, etc. Other common-sense items to invest in when living in a flood prone area include, emergency medication kits, blankets, extra clothing packed in water-resistant bags, water resistant flashlights/batteries, gasoline powered pumps, emergency lighting, and storage of fresh water. Invest in rubber boots or hip-waders as well. Store valuable items in a secure and dry area. Disconnect any electrical generation devices that may touch water as a result of flooding.
Insurance
When it comes to property insurance, you need to appreciate that there are various exceptions and exclusions to flood insurance coverage in most homeowners' policies of property insurance.
Many property owners would be quite surprised to learn that a standard basic homeowners' policy will not cover Overland Flooding or Sewer Back-up:
Overland Flooding – Overland flooding occurs when water penetrates a home from "over land", e.g. through windows and doors, such as when a river or lake spills over its banks. Insurance for "over land" flooding is not commonly included in a standard homeowner's policy of property insurance. Many insurers will decline to provide such coverage if your home is in a flood prone area. As a homeowner, you need to know the risks and plan accordingly. If this coverage is essential to you – please understand that you may have to pay a much higher premium to get coverage and some insurers may decline your request for coverage of this item entirely.

Sewer Back-up – Sewer back-up flooding occurs when water and sewer infrastructure is compromised as a result of massive storm events, blockages and/or deterioration. The water "backs up" into homes – generally damaging basements. Once again, as a homeowner, you need to ask your property insurer if sewer back-up coverage is standard in your policy and what are the limits to compensation. If sewer back-up is not standard, investigate what it would cost to obtain such coverage. Keep in mind that repair costs for a flooded basement/foundation can easily exceed $40,000.00 +++ (or more).
General tips
If you are concerned about spring flooding in your area, consider the following best practices:
Never pour fats, oils or grease down drains – blocked drains increase risk of sewer back-up;
Keep storm sewer grates clear of debris to encourage run-off;
Clean and maintain eaves troughing;
Store family heirlooms and keepsakes upstairs – not in your basement;
Make sure your sump pump works and regularly check it for functionality;
Ensure that spouts direct water away from your home
Invest in a gas generator
After the flood
If your home is damaged by a flood, you will need to contact your insurer and investigate whether there is any disaster relief assistance available through municipal, provincial or federal authorities depending on where you live.
What to do if you are denied coverage?
Insurance – particularly for water damage – can be subject to certain exclusions, exceptions and caveats. Sometimes insurers deny coverage based on interpreting your claim as falling under a particular exception or exclusion that may or may not apply. If you believe that your insurer has denied your claim based on a misunderstanding of the facts on the ground, you should consider calling a lawyer and seeking legal advice. Sound legal advice is worth it.
If you have any further questions about flood damages or real property insurance claims please contact Merovitz Potechin LLP.
The content on this website is for information purposes only and is not legal advice, which cannot be given without knowing the facts of a specific situation. You should never disregard professional legal advice or delay in seeking legal advice because of something you have read on this website. The use of the website does not establish a solicitor and client relationship. If you would like to discuss your specific legal needs with us, please contact our office at 613-563-7544 and one of our lawyers will be happy to assist you.