Bram Potechin, 2023 "Lawyer of the Year"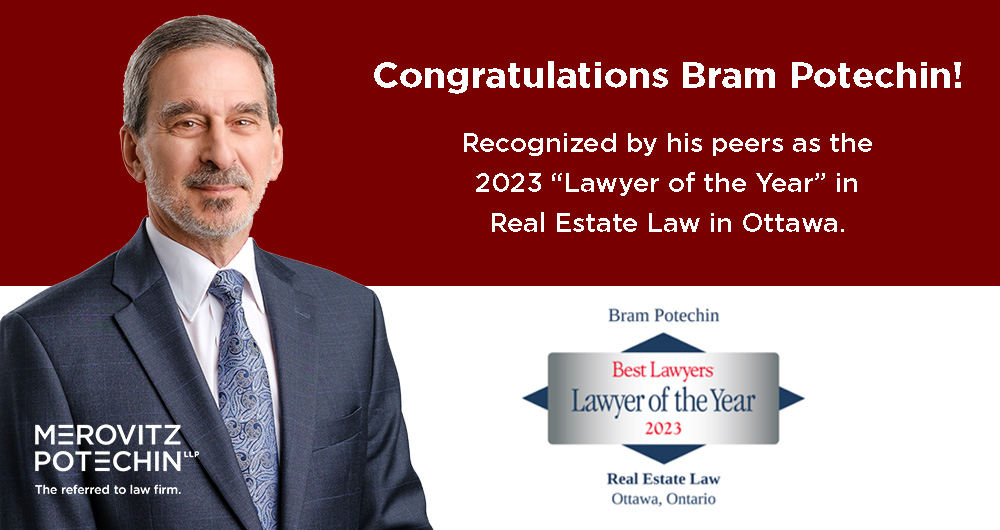 Merovitz Potechin LLP is proud to announce that Bram Potechin has been recognized by his peers as the 2023 "Lawyer of the Year" in Real Estate Law in Ottawa by Best Lawyers®. He will also be highlighted in the 17th edition of The Best Lawyers in Canada for his high caliber work in Real Estate Law.
For more than 40 years, Best Lawyers® has been regarded—by both the profession and the public—as the most credible measure of legal integrity and distinction. As such, recognition by Best Lawyers® symbolizes excellence in practice.
The best lawyers know who the best lawyers are. Inclusion in Best Lawyers® is based on a rigorous peer-review survey comprising more than 1.6 million confidential evaluations by top lawyers in Canada.
Congratulations Bram!
The content on this website is for information purposes only and is not legal advice, which cannot be given without knowing the facts of a specific situation. You should never disregard professional legal advice or delay in seeking legal advice because of something you have read on this website. The use of the website does not establish a solicitor and client relationship. If you would like to discuss your specific legal needs with us, please contact our office at 613-563-7544 and one of our lawyers will be happy to assist you.