Bram Potechin, Recipient of the 2020 OBA Award of Excellence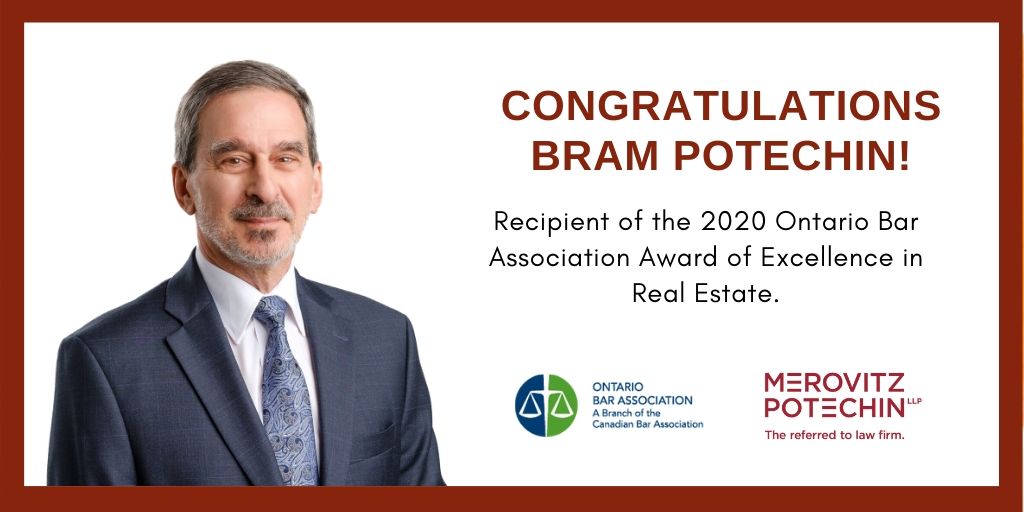 Merovitz Potechin LLP is proud to announce that Bram Potechin is the 2020 recipient of the Ontario Bar Association Award of Excellence in Real Estate.
The Award of Excellence in Real Estate was created to recognize exceptional contributions and achievements in real estate law by members of the Ontario Bar Association.
Bram has been practicing law for over 43 years and is a certified specialist in the practice of real estate law. Born into a family of developers, Bram offers an innate understanding of the real estate industry's needs. Bram's practice is a testament to his desire to help individuals, builders, developers, and businesses. Learn more about Bram Potechin here.
The award is normally presented in the spring but due to the current global pandemic, the award ceremony will be postponed to a later date.
The content on this website is for information purposes only and is not legal advice, which cannot be given without knowing the facts of a specific situation. You should never disregard professional legal advice or delay in seeking legal advice because of something you have read on this website. The use of the website does not establish a solicitor and client relationship. If you would like to discuss your specific legal needs with us, please contact our office at 613-563-7544 and one of our lawyers will be happy to assist you.